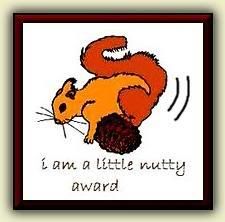 Welcome to the first annual I Am A Little Nutty Awards. (This is a Jericho blog so I figured the award should have an appropriate name.)
What? You don't understand the connection between Jericho and Nuts?? You can read all about it
here
.
Anyway, the I Am Nutty Awards are hereby presented to my 11 favorite blogs of 2007. These are in no particular order so nobody has to argue about being Number 1. Sorry there's no prize attached to the award but you don't have to run around saying that.
Just say you won an award for Best Blog of 2007. Here we go:
1.
Remote
Access
"A TV blog with recaps, fan news, updates and more."
2.
Copywrite
Ink
"Observations on communication and marketing from the president of a leading commercial writing services company."
3.
Jericho
Junction
"The point of departure for all things Jericho."
4. "
Midori
Miller Speaks Out... Daytona Beach Real Estate Trainer, Daytona Beach Real Estate Training, Century 21 Sundance Realty in Ormond Beach Florida, Daytona Beach Florida and Ormond by the Sea Florida."
5. "Lead With Your
Heart
: Sell Happiness and You and Your Business Will Flourish"
6. "The CBS post-apocalyptic series
Jericho
, plus all the other news I see fit to print."
7. "
Pastry
arts graduate shares her personal stories, five careers, love of movies, music, art and television, her critiques, and opinions of the world at large. Her love of…"
8. "
Rantings
from a few corporate types about life, technology, travel, guns, politics, and everything good in the world."
9. "A Website For All Earthlings, Who Love
Animals
This is a blog that hopes to provide information, news, health care, training tips, inspiring stories and even introduce…"
10. "
TV
, Movies, Music, Sports, whatever! Post Comments everywhere. Let the world know what you think! Give them your own Two Cents!"
Okay, I couldn't stop without adding one more. Michael, take a 1 off 11 and say you were Number 1. Who can argue?
11. Michael
Hinman
of SyFy Portal
++++++++++++++++++++++++++++++++++
Note: This award means I expect great things from you all in 2008. Surely you hope to win again next year???