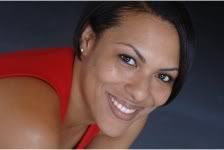 I have to tell you that this interview means more to me than being able to interview anyone else of my choosing. I became a fan of April's the first time I saw her as Darcy on Jericho. Her portrayal of Darcy has the perfect balance of strength, resolve, love of family, and character.
When I scoured the Internet looking for information about April I was sorely disappointed. I found nothing about her real life. What was she like, did she have a family, what are her hobbies?
Sometime later, to my amazement, April agreed to this interview. She told me this is her first interview concerning her role on Jericho. Get a grip Entertainment writers! You have missed the boat.
It is an honor for me to present the talented April D. Parker who may pleasantly surprise you with some of her answers.
Thank you, April, for making my dream come true and for making Darcy real.
1. Who is April Parker-Jones and what is she like?
Well, I am still figuring that out on a daily basis. But what I know of myself right now is that I am a proud mother, wife and child of God. I am a dreamer and sometimes an underachiever. I can be lazy at times and I want people to like me. I am very positive and I think that I am pretty funny! Hmmm… what else? I like that you thought of me do to this interview!
2. What steps do you take to make your portrayal of Darcy so realistic?
First of all thank you for saying that the portrayal is realistic! Being realistic is absolutely the motivation that I use when bringing Darcy to life. I just try and pull from my real life. Being a Mother makes the transition so much smoother. Thankfully, Lennie James (Robert Hawkins) helps me tremendously in portraying Darcy realistically. A few moments before the scene begins I try to mentally take myself to Jericho. I try and place how I would feel being in a foreign place, post nuclear war with my Husband and kids. It can sometimes be a myriad of emotions and lots of different layers all at once.
3. Do you come from an acting family? Can you give us a little background?
No, I actually am the only one in my immediate family who is into the arts! It's sort of like I was the strange one growing up!! O.k. Yes, I'm still a bit strange!
4. How did you feel when Jericho was cancelled and when it came back?
I would be lying if I said that I wasn't very disappointed. I knew that Jericho was a very smart show and maybe the masses were not ready for it! So, when it was revived, it was just confirmation that you can't keep a good show down!
5. Darcy came into her own at the end of Season 1. There seems to be much more to her than anyone expected. What do you like about Darcy?
She sure did begin to come into her own!! I think in Season 2 there will be an even greater growth with Darcy. I really like that she puts her family first! I like that there is a softness there, although it is sometimes masked because of her commitment to her families well being. I like it that she still really loves her Husband and that she is a lot smarter than she lets on.
6. Do you have other roles you'd like to play someday? What are they?
You know, I have always dreamed of doing sketch comedy!!! I know it seems like a far stretch from the role of Darcy, but I can imagine myself being part of a cast like SNL or Mad TV!
7. How did you get the role of Darcy?
Interestingly enough, I auditioned for the role of Mimi for the pilot of Jericho! Then a few weeks later I was called in to read for the role of Darcy. I was told it would be a co-star role and most likely I would be in one episode. But there was a possibility for the role to recur. Needless to say, I feel so blessed that Darcy is still around for Season 2 and hopefully for Season 3!
8. What do you most enjoy about working on Jericho?
Crafts services of course!! There is an endless amount of food!! At every turn or at your demand, something fabulous to eat can be whipped up for you. It's very dangerous, but oh so wonderful! Coming in a close second to the grub are the amazing people! Everyone on the set; from the cast to the crew are all beautiful, positive, supporting beings. I couldn't have dreamed of working with a better bunch of folks!
9. What are some of your hobbies? Interests?
Well, I love spending time with my family. As mentioned in the prior answer, I enjoy eating. What else…..Oh, I love music. One of my secrets passions is to dance! I often picture myself being a back up dancer for a big hip hop star or being the new breakout star on "So You Think You Can Dance!" (Don't Laugh)!!
*** (I didn't laugh at all.)***
10. What do you hope the future holds for you, Darcy and Jericho?
I hope the future holds for April lots of love, peace and blessings. For Darcy I hope that she continues to come into her own and surprise everyone in the coming episodes. Lastly, I hope that Jericho lives on for at least 13 seasons and keeps the fans on the edges of their seat!
April D. Parker-Jones
A.K.A. - Lady Hawk
P.S. - Oh my goodness, I almost neglected to answer the last question which is:
How would you feel about an April Parker fan club?
And my answer to that is ..... Does Jericho Rock?
*** I take that as a yes so here we go!***
April D. Parker Fan
Club
No dues because you don't get anything with your membership except to say that you are a member of the 1st Unofficial April D. Parker Fan Club. Who wouldn't be a fan of this multi-talented actress??
Email
sweat1951@rock. com
if you'd like to join.