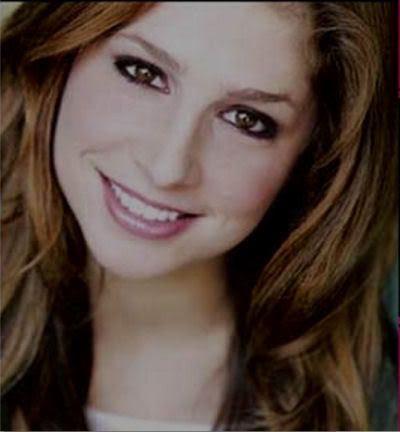 This lovely young lady certainly needs no introduction. We all know and love her as "Bonnie." She was so gracious about doing this interview even in the midst of her busy life. I hope you enjoy it as much as I did.
1. Did you always want to be an actress? Are there others in your family?
Yes. I never wanted to be anything else. I think I came out of the womb wanting to be an actor. I have vivid memories of me being maybe 4 or 5 and having people ask me, "So, what do you want to be when you grow up?" and me answering without hesitation, "An actor." I wish I knew where that came from, but I don't. My mother was highly acclaimed on the stage. Her face is on the cover of the first play written of, by, and for the deaf, called Sign Me Alice, and I have beautiful photographs of her on the stage on the wall in my bedroom. She was asked to direct a revival of the play when I was 7 or 8 years old, and I remember coming to rehearsal with her after school everyday, sitting next to her as she took notes and gave direction and blocking, and just loving every minute of it.


2. How has being deaf impacted your career?
That's a difficult question. I've been deaf since the day I was born and it's such a big part of my being. So, it's rather difficult to consciously isolate the specific impact that being deaf has had on me as a person and as an actor. On one hand, I only go on a handful of auditions per year, because there's not exactly a huge abundance of roles out there for me. At the same time, it's so difficult for actors to try to find a niche in this business, and I came into this with a clearly defined one. I was very lucky early on in my career to be able to book roles with absolutely no professional experience because I fit in the specifics they needed. I've always believed that nobody should define themselves as only being one thing, because nobody really is. I think definitely the rarity of roles that I can actually book has made me very hungry and passionate. I take my work very seriously and am always grateful to be working. Almost all actors I work with are like that, but I think maybe it's a bit more visceral with me.


3. I have to ask how it felt to work with the incredible Marlee Matlin in " The Division"?
I felt extremely blessed and so grateful to have the opportunity to work with someone as accomplished and highly regarded as her so early in my career. I have to say it was the first time I truly felt star-struck. I had to remind myself not to stare at her! I felt like I was seven years old again. She was more than generous with me and I learned so much working from her. She is a true pioneer and paved the way for so many people. It was kind of ridiculous how fortunate I was to be able to work with her.
4. Do you think people today are finally more accepting of the deaf community?
I think so. There's a lot more awareness out there. People have access to a lot more information nowadays with all the technology we have. I've met so many people who've been bored at work, decided to surf the web, and started picking up sign language from a website. There are also a lot of deaf bloggers out there that get thousands of hits per day, so anyone who wants to can just happen upon the plethora of information that's available about the community. I think society has also started to actually gravitate toward people and ideas that are different. Do you remember the standard of beauty in the '80s? Everyone looked the same, typically with teased blond hair and blue eyes. Now being different is beautiful and we're encouraged to speak our minds. I think that social progression has had a very positive impact toward the public perception of the deaf community.


5. How did you get the role of Bonnie?
After finishing two seasons of Weeds, I felt like I wanted to challenge myself more and go out for roles that weren't necessarily deaf. My new agency agreed, and so on my first day of auditioning for traditional roles, I went in for Emily on Jericho. I was in that room for hours waiting with girls who were taller, prettier and skinnier than me, and I almost wanted to leave a few times but I was like, you know, you've got this far, just go in and read. So I did, even though for my audition I had to pretend to talk on the phone and I'd actually never done that. I was holding the phone backwards and upside down I think. But the casting director was so welcoming and open and I was like, at least I got validation I could really read for traditional roles and not be laughed out of the room! The next thing I knew I was being offered the role of Bonnie. They'd rewritten the role to make her deaf and there I was, on board this great ensemble drama. It was crazy. But so unbelievably amazing.
6. You are the only actor in history to have regular roles in two different prime-time shows. You're in Jericho and Weeds.How are those roles similar? Different?
A lot of people have that misconception. I wish that was true, but unfortunately, it's not. My role on Weeds was a recurring one, not a regular one. I think someone once said that I had two roles on two different prime-time shows and then that got kind of exaggerated a bit. But both jobs were amazing. My characters are similar in that they're the same age, but they have completely different backgrounds. Megan, who I played on Weeds, is kind of this girl who's bored with Suburbia. She's not afraid of anything and she speaks her mind. She's got spunk and she's so confident. She's deeply intelligent and ambitious but she doesn't always live in the moment, I think. For her, it's always about what comes after Agrestic and she has every intention of getting out. Bonnie has a deep sense of responsibility and her life really is all about Jericho. She has a good head on her shoulders and is wise beyond her years. She's always just put herself second and everything else first, even though she does rebel at times! Especially with Sean Henthorn. What was she thinking?
7. How did you feel when Jericho was canceled?
It was really hard for all of us. We all had thought we'd be picked up and that CBS had faith in the show and was going to give us a second chance. They said that they knew they'd mismanaged the show, and it kind of felt like we had the rug pulled out from under us. We knew people loved the show and to have the show end like that, poised on the brink of so much, felt like we were ending with a whisper, not a bang. I know in this business, everything ends eventually, but it just felt so wrong to have it end then and there. I was kind of like a zombie for a couple of weeks, I just walked around in complete disbelief.


8. What was it like to here it had been renewed?
I was almost numb. I couldn't believe it. But in a way, it was so much more fulfilling and satisfying to have the show be brought back because of the determination and passion of our fans. It was surreal. You can't write that stuff. It was like the best underdog movie of all time. And it made us so grateful for everything we got because we knew we almost had it all taken away.


9. What would be your dream role other than the two you have now?
In general, I want to continue in the direction that I've come and just keep trying for traditional roles. I feel like that's the best way to educate people about the deaf community and what people are capable of if they're given the chance. I do want to start writing one day. I have a few roles I really want to sink my teeth into, but I don't want to talk about them until I really start to make that a reality. When the time is right, I'll tell you all about that and you won't be able to shut me up.
10. What is it like for you to work on Jericho with such a wonderful cast and crew?
It's wonderful. On every television show possible, you have people saying, "Oh, this show is like a family!" But most of the time, they're lying. Seriously. But not on Jericho. It's always such a blast to come to work. I'm always laughing and happy to see everyone. After a difficult scene we had to do, we all even went to TGI Friday's to chill for a couple of hours. You'd think we'd be sick of each other and be like, "Dude, I'm going home." But it's not like that. I think they tapped into some rare form of alchemy when they put the cast and crew together for this show.


Is there anything you'd like to say to the Jericho Rangers?
I don't think they really know how often they're talked about on the show. It's like they've become an omnipresent force on the set. We know that they are the reason why we're back and it's the most amazing thing possible. We're all really working hard to give them what they deserve and that is an amazing, action packed second season. I think we've succeeded and I hope you guys like it!
http://www.shoshannah-stern.com./
Starring Roles
Jericho (2006) CBS - Bonnie Richmond
Weeds (2005) Showtime - Megan Beal
Last Shot, The (2004) - Steven's Girlfriend
Threat Matrix (2003) TV Series - Holly Brodeen Justice (2003) - First Patron
Auteur Theory, The (1999) - Founders' Day Girl
Guest Starring Roles
The Division - Testimonial (2003)
ER - Rosemary - A Little Help From My Friends (2003)
Boston Public - Chapter Fifty (2002)
Providence - Reenee - Great Expectations (2002)
Off Centre - Rebecca - Hear No Evil, See No Package (2002)