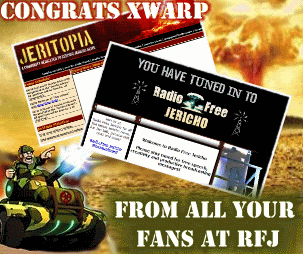 Xwarp was Ranger of the Week so Congratulations!
He works hard for Jericho and gave us Jeritopia. I never did chats until I went there and found out how easy it is to use.

Here's Xwarp:

1. What gave you the idea for Jeritopia?
At the time Jeritopia was set up, there was not a Jericho related chat room. Jeritopia was started to provide a common place for fans from all the forums to come to a neutral place and set aside their differences and talk about Jericho in real time as well as allow people to get to know each other on a more personal level than through a post on a message board.
2. What do you hope to accomplish in the future with Jeritopia?
To continue to promote Jericho via activities such as the themed discussions and trivia games, (a big THANK YOU! to Morgan5318 for these), and other activities created by the users of Jeritopia and to help in getting season 3.
3. I love it because it's so easy to use. What do you like best?
What I like best......that would be the enjoyment that the members of Jeritopia have for the chat room. The people that use Jeritopia have made it what it is and their continued participation in the chat makes it all worth while.
4. You went to Comic Con. What did you think about it?
This is the first Comic-con convention I have ever been to. I was pretty much intent on going strictly for Jericho. It was a BLAST! There were A LOT of people, but it was fun. It was interesting to see all the people that were dressed up in the costumes. It was cool to see the multitude of displays, Speed Racer's Mach 5 and the Batmobile for a couple.
5. Who were you happiest to meet?
I was happy to meet all the people that were able to attend Comic-con. Schumi, Thurbers, Rubberpoultry, Shaun Daily, Holyhobbits, Carol Barbee, Karim Zreik, Dan Shotz, Jon Steinberg, Matt Federman, Steve Scaia, Lennie James, Skeet Ulrich, and last but not least, Ashley Scott. It was absolutely amazing to talk to all of these guys/gals and hear from them the true gratitude to all of the fans who worked very hard to get Jericho back.
6. Are you the one responsible for the flyers that are being given away in contests?
The signed flyers that are being used was a result of what I would call perfect timing. Schumi and I were chatting around the corner from the green room where the cast and crew were prior to the Jericho panel. Lo and behold, Jon Stienberg and Dan Shotz ran into us. We had these stack of flyers and bam.......the question was asked about having a few flyers signed to use as prizes for contests. We wanted to share something with the fans that could not be there.
By the way, we have more contests coming up! :)
7. Jericho Rally Point. Did you design it? What is its' main function?
JerichoRallyPoint.com is owned by "point4zero". He set the site up shortly after the cancellation and I offered to assist in helping him with the site if he wanted. It pretty much went from there. It's main function, as are the other Jericho related forums, is to promote Jericho. JRP has a very talented staff that strives to provide another ground for people to enjoy each other and Jericho.
8. Do you have a real life? Work? Hobbies?
Believe it or not....lol....I do, albeit probably as much of one as other fans of Jericho. I work for a defense contractor. Hobbies......My quad and my guns. There are a lot of areas around the town I live in where I can ride my quad and considering that my quad is "street legal", it makes it that much easier to get on the road and go. I also enjoy target shooting with my pistol, and shooting skeet with my friends when I can. (skeet-clay pigeons, not ulrich)
9. Do you run any more websites? Like to?
Other than the day to day administration of Jericho Rally Point and running Jeritopia, I also have
www.strippersthatbounce.com
which is at the moment just a tribute to a comment by Lennie James and season three. As far as running anymore, LOL,....... I could not say....
10. What do you love about Jericho?
I love Jericho for the premise of the show. Strangely, the idea of how life would be after an even Jericho makes me think about how prepared I am in regards to survival and protecting my family. It also makes me wonder about how the community that I live in would react to such an event and whether or not they could come together as was done in Jericho. In addition, another aspect is the "crisis" and the coming together of the residents to build each other up to be successful, much like the "crisis" of the show being canceled and the fans coming together to get it back.
11. What should CBS be doing to promote Jericho?
I think CBS should be promoting the dvd more on t.v. than they are. I also think that CBS should be promoting the Jericho website as well. Really, advertising either of these if not both will do nothing but help the revenue/ratings for the show to go up.
12. Comments?
Being part of all this is and has been a lot of fun. I have been very fortunate in meeting a lot of really nice people. It is simply amazing what can be done through the internet. Jericho would not be back today if all the fans had not come together and shown CBS that we can make a difference in what programming we find acceptable. I personally thank everyone who has contributed to the success of showing CBS that we will be counted!