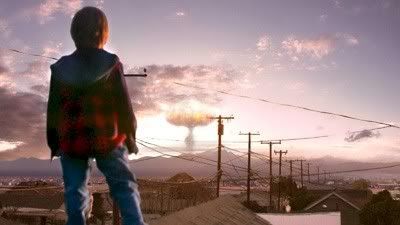 Were you around for the Nuts to CBS campaign? If you were then you'll remember Boondoggie of Find-The-Boots. If you're not a Ranger from that time then let me say you should get to know Boondoggie. His help and advice were crucial during our Nuts campaign and he gave us so many ideas. He's definitely one of our unsung heroes.
I will post some links to his Jericho articles at the end of the interview. Do you remember " Partnering With the Monster" or " Lessons To Be Learned From Save Jericho"? Be sure to read the articles if you need motivation or just want to know what we should be doing now.
In the meantime it truly is my honor and a privilege (I was scared to ask for this interview) to introduce Jericho Ranger and friend to Jericho- Boondoggie.
1. How did Find The Boots come to be? Was it your idea?
TierFlyer and I were on a train from London to a meeting and were
quite pleased with ourselves that we had stayed at the Paddington
Hilton, allowing us to take a train to our destination and arrive
faster than if we were taking a cab from a hotel in the city we were
traveling to. The Hilton is much more comfortable, and the food
options around London are much better than, say, Slough. So we
decided there might be a cool blog with those types of tips.
We started off as a travel/expense account living blog. It had a good
following, but it didn't really get popular. We decided to open it up
and start talking about political issues that business people tended
to think about. We still do the odd gadget and travel tip, but it's
much more of a society/internet/business/politics blog now. And the
readership is much larger.
2. Is there an overall message you're trying to convey?
We're optimists. We see big things happening with technology and
society, and we enjoy our gadfly status. But the overall message is
whatever we feel like at the time.
3. What blogs/websites are your favorites?
Hmm, every morning the first thing I read is Dilbert. As far as I can
tell, Scott Adams has worked at all the same companies I have. It's
uncanny as to how accurate he is about corporate life.
I scan about 40 blogs every day via an RSS feed. They range from Kim
DuToit to Steve Pavlina. Michelle Malkin and Instapundit get a
perusal every day.
BTW, it was one of the high points of my life when Michelle Malkin
quoted my article on Jericho.
I read Matt Cutts' blog every day because I'm really into SEO/web
monetization. This has nothing to do with my day job, I just find it
interesting.
I also read Rich at Copywrite Ink every day.
4. What topic do you most enjoy writing about?
I enjoy writing about the internet and politics. The Jericho series
was a lot of fun because I was able to apply my experience in sales,
marketing, and internet technology to a cause I wanted to see succeed.
5. Do you have any hobbies? Any favorite TV shows?
I'm really into the outdoors -- hunting, fishing, backpacking,
camping, anything. I also play ice hockey (badly). I'm a huge NHL
fan.
TV Shows: Jericho, of course. My other shows are Battlestar
Galactica, 24, and The Sopranos. Recently I've started watching Mad
Men on AMC, which is really catching its stride.
I've been hooked on several BBC series on DVD -- I spend a lot of time
on airplanes to that's a convenient entertainment route. MI-5,
otherwise known as Spooks in the UK, is my favorite. I'm working my
way through the last season right now. Other great shows include Dead
Like Me and Men Behaving Badly.
But in general, most of TV is junk. I spend much more time reading.
6. You wrote some fantastic articles about the Nuts campaign for Jericho way
back when. I'm going to add the links so newcomers can read them. Did you
ever truly believe the campaign would be successful?
I did, but not as quickly as it happened. I wrote a lot about the
speed of change in the corporate environment. The fact that the
campaign was successful so quickly still blows me away. In corporate
time, CBS changed in an instant.
I thought it would be a long slog. I thought CBS would do a movie to
wrap things up in January, and then the fan movement would go on for
another year and they might do a mini-series, and eventually a show.
But I should have been able to track the levels of internet activity
(the google footprint) for Jericho vs other campaigns such as the
Browncoats and seen that they were having a much larger impact.
7. Why do you think that fan marketing can/cannot change the way the
networks operate?
Obviously it can, because it already has. The networks currently
think of themselves as broadcasters, and I think that widespread
broadband means that they need to think of themselves as content
providers. The fact that just about every TV show now has a web
component speaks to this.
8. How do networks differ from other corporations in their operations and
why or why not is that important for fans to know?
Most people think that viewers are the network's customers. Unless
you consider that part of your cable bill goes to the network, that's just not the case.
I think the Jericho fans figured out fairly early that they aren't CBS's customers. The network's customers are their advertisers. The fans are a commodity to be delivered to the advertisers. Telling CBS that "we want good TV" wasn't nearly as effective as contacting the advertisers and letting them know about the movement.
9. Do you think Old Media learned something from that campaign?
I'm in a wait and see mode for that. CBS seems to be trying, but I
don't think they've completely gotten the message. They'll probably
need a few more whacks with the new media 2x4 before they get it.
10. How do you think things are going now since Jericho has been renewed or
do you keep up with it?
I haven't really kept up with it. I had another project get very busy
almost the same day that CBS announced the renewal, so I did an
article suggesting what the fans could do and then got out of the way.
I decided that I'd wait until the Jericho message hit me from another
source before I'd start writing about it again.
It's funny, your email arrived the same day that I was at the local
Home Depot and saw someone with a Jericho t-shirt. I asked them about
it, and they told me all about the show. So there's a Jericho fan out
there that has had a chat with Boondoggie and doesn't even know it!
I love that t-shirt story. Wonder who that fan was? I thank him and I thank Boondoggie for the motivational interview.
Articles by Boondoggie:
Save Jericho: Corporate
Life
Save Jericho: Old
Media
Shows its Age
Save Jericho: Flexing
Muscles
Save Jericho: A Movement with a
Heart
Tactical
Marketing
Lessons To be
Learned
Save Jericho: An Internet
Phenomenon
Thank you Boondoggie.