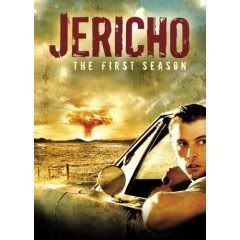 Delana201 is a fantastic Digger and all-around great Jericho promoter. I am proud to be able to present this interview to say Thanks for all you do.
1. What do you love doing besides watching Jericho?
I love quilting and playing computer games on Pogo. I have an '81 Corvette that has been in one shop or another for 6 years getting restored & is almost completed. When I finally get it back, I will certainly enjoy driving it.
2. How much time per week do you spend promoting Jericho?
Probably not near as much as others. I've only lived here two years, so my social circle is somewhat limited. I wear my T-shirts whenever I can and email
friends & family at least once a week with Jericho reminders - they're
probably very glad the reruns are over & they won't hear from me for
awhile.
3. What question do you hope will be answered in Season 2?
I would like to know more about Jake's back story. What did Jake do that he couldn't tell his father? Was it something more then shooting the little girl in Iraq? Where was he for those five years? I'd also like to know who set off the
bombs.
4. What would you like to see CBS do to promote Season 2?
I'd like to see fireworks, banners flying in the sky and loudspeakers blaring "Watch Jericho on CBS at such and such a time." That won't happen so I'll settle
for frequent promos (Rubberpoultry's if possible) and cast member
appearances on talk shows.
5. What else can fans be doing now to promote Jericho?
Until the new air dates are announced I think we're kind of at a plateau. We can continue wearing our shirts, distributing flyers and buying DVD's. Word of mouth, however, is the best promotion. Talk to family & friends who don't watch
Jericho & email those you can't talk to directly. Post frequently on the
CBS board & whatever other boards you usually go to. CBS wants to see
activity. Anything you can think of to get Jericho's name in front of the
public in a good way should be done. Just remember, we're a class act.
6. What attracted you to Jericho?
I'm not a TV viewer, so when I saw a preview for Jericho I knew I had to watch it. I really don't know why. I'm not a survivalist or a post-apocalytic drama fan. I was not particularly a fan of any of the cast members. Something just told me I'd be missing something great if I wasn't sitting in front of my TV Wednesdays at 8:00PM. That something sure was right.
7. How can we attract new viewers to Jericho?
Talk!! Talk Jericho whenever you get a chance. Family, friends, strangers - pigeonhole all of them and tell them what they're missing. I think stressing it's a show about surviving, not a doomsday show will help. If you can get them to watch a few episodes on Innertube,. hopefully you'll get them hooked.
8. What do you tell people about the DVD?
I make sure they know that Oct. 2's the release date and that it can be pre-ordered from Amazon.com or the CBS store. I've also said they should check out DVD's for the troops.
Any comments?
Just like everyone else, I was devaststed by Jericho's cancellation. I didn't find the Jericho message board til just a day or two before the renewal, so my thanks and praise to all those who worked so hard to save Jericho. I am eagerly anticipating season 2, 3, 4, etc. We will get them.