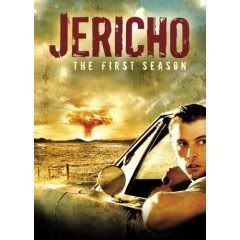 "In the world of
communication
(advertising, marketing, public relations, political consultation, etc.), people, products, and companies live and die by perception every day and all the time. But, to actively live with the mistaken belief that perception is reality is fraught with peril, delusion, and consequence."
Jericho will return for a Season 2. Jericho Season 1 DVD was released. Now what? For some, the perception seems to be that we can sit back and relax and wait for Season 2. There's no more work to be done. Right?
The reality is that we are not assured a Season 3. We are not assured that Jericho won't be canceled again. We must not delude ourselves into thinking all is well.
To all those who fought during the Nuts campaign;thank you. No one person ever has or ever will save Jericho all on their own. It will take all of us! No, there is no Leader because most of us are adults and we know what we must do. There is no idea more important than another and no one person is more important than another. Believing there is a leader "is fraught with peril, delusion, and consequence."
To new fans: We need you! We need you to help us fight for Jericho. You are important!!!! Your ideas are needed!!! Help us promote Jericho. Please.
Just like in the real world you will meet fans you may not like. As I've always said, " I don't have to like you to work with you." Not liking you does not give me the right to belittle you, call you names, or besmirch your reputation. I will work with anybody who is honestly working for Jericho. I hope you will too.
Letter To Old Fans and New:
Jericho Needs You!!!!!!!!
Re-enlist In The Jericho Army Today!
Are you one of the Nuts who saved Jericho?
Do you still want more than just 7 new episodes?
Please! Come Home to Jericho! Jericho needs your support again.
120,608 people signed the petition to save Jericho! Where are you now?
We have missed you on the CBS message board.
We need more people there because CBS watches the board to see how many people are active.
We must show CBS that we are still here actively promoting.
Please come home and save Jericho again.
And while you are at it, be sure to join the new Jericho Fan Group on Yahoo to keep up with all the latest Jericho news!
http://tv.groups.yahoo.com/group/jerichofans/?yguid=55172895

If you have questions or comments or a topic you'd like to see covered here email me at
sweat1951@rock.com