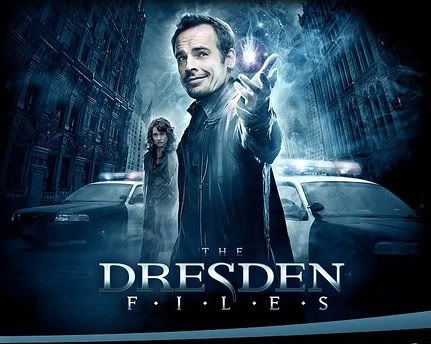 AttilaTheHun? You should work for Jericho.
Actually, Attila is a nice lady named Joann. I had a Dresden interview a while back but felt we needed to be updated so Joann kindly agreed. I must say these Dresden fans are passionate, friendly people and I thank them for sharing with us.
1. How is your petition going?
Well, the petition is doing great --- it's only been out of the Top 10 Most Active Petitions list twice in the two months-plus it's been operating and as of Oct 6, it has 5,530 signatures, from a wide variety of countries, and was at 7th on the Most Active list!
2. What kind of grassroots efforts are going on now?
Of course many people are continuing to write letters and send emails --- both the
dresdencity.org
and Sci-Fi Channel forums have threads with contact information for such. And the podcast SliceOfSciFi has started a 'Save Harry' campaign that involves sending drumsticks to Bonnie Hammer, who is in charge of the SciFi network ; the link is
http://www.sliceofscifi.com/2007/09/14/bring-back-the-dresden-files-drum-stick-campaign/

3. How do you like Hey Nielsen? How are the Dresden Files doing there?
As of Oct 6,'The Dresden Files' is at #5 on HeyNielsen! And I think it's great that there is now a way for boxless people to have their opinions and viewing preferences counted!
4. Do you have any videos on YouTube?
There are quite a few Dresden-inspired videos on YouTube, and I believe a 'Save The Dresden Files' one is currently in the works --- or may already be out!
5. Has Dresden made the press lately? Where?
An article in The Mobile press-register, just a week or so ago. The full text can be found on
dresdencity.org
, under the 'Campaign efforts' forum.
6. Has the DVD raffle ended or not? Will there be more raffles?
Yes, the raffle is over, and the prizes mailed! I believe another promotion is being planned, but don't know what form it will take.
7. Any news from the cast, crew, producers?
No official word from anyone, no. But Paul Blackthorne has, in interviews, stated his willingness to resume the role of Harry Dresden if offered it again …. And most of the other cast members have mentioned a similar willingness to return.
8. What's next for the campaign?
Well, as I said, I know there are more promotional efforts in the works … And one of the important things is to keep our efforts up --- we can't let the SciFi Channell, NBC, Lionsgate, or anyone think we're going to forget 'The Dresden Files'! After all, a fan campaign finally succeeded in resurrecting 'Forever Knight', after slightly more than a year off-air, I believe --- - we've got to prove we, and 'The Dresden Files', have staying power!
9. Where can people go to get involved?
Go to
http://dresdencity.org
! Or Google 'blue whale pub' -- that's the hosting site ; or Jim Butcher's website -- he's the author who created the book series on which the TV series is based --- has a forum devoted to the TV series that has 'Save Harry' threads ….
19. Anything else you'd like people to know? Links?
Well, besides
http://dresdencity.org
, there's
http://gopetition.com/petitions/new-home-4-dresden.html
, to sign the petition ;
http://www.sliceofscifi.com/2007/09/14/bring-back-the-dresden-files-drum-stick-campaign/
http://newhome4harry.blogspot.com/
http://home.comcast.net/~zarina43/wsb/html/view.cgi-home.html-.html

Or people could just Google "save the Dresden Files" and see what comes up!