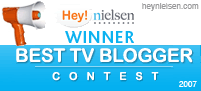 Thank you to all who voted, Myles at Cultural Learnings, and Hey Nielsen.
Hey Nielsen
Blog
Contest Winners:
FIRST PLACE
Jericho
Monster
Second Place
Cultural
Learnings
Honorable Mention
Televisionary (
televisionary.blogspot.com
)
TV Squad Blog (
tvsquad.com
)
TV Over Easy (
tvovereasy.com
)
"What's great about all of these sites is that they display an amazing passion and knowledge for their subject. It's exciting to witness the power of, what we call GCM (consumer generated media) and how it's reshaping the way the web works and the way people interact with entertainment. As our maestro of CGM Pete Blackshaw says "Blogs are the epicenter of online passion, and these TV blogs are taking passion to an entirely new level.The common thread across the winners is deep, in-depth, spirited--and sometimes controversial--rants and raves about shows, including those which got cancelled."
Not only do these shows know their stuff, they also have played a huge part of spreading the word about Hey! Nielsen (and correcting the word when necessary). We have see the community grow and learn and debate together, and it has resulted in a stronger, smarter site.
There are other sites we'll be calling out in the next few weeks as well that didn't make the top five (or the original list) because we want to get their names and voices in here as well. So thanks again to all.
Coming up tomorrow... a quick interview with Jericho Monster."